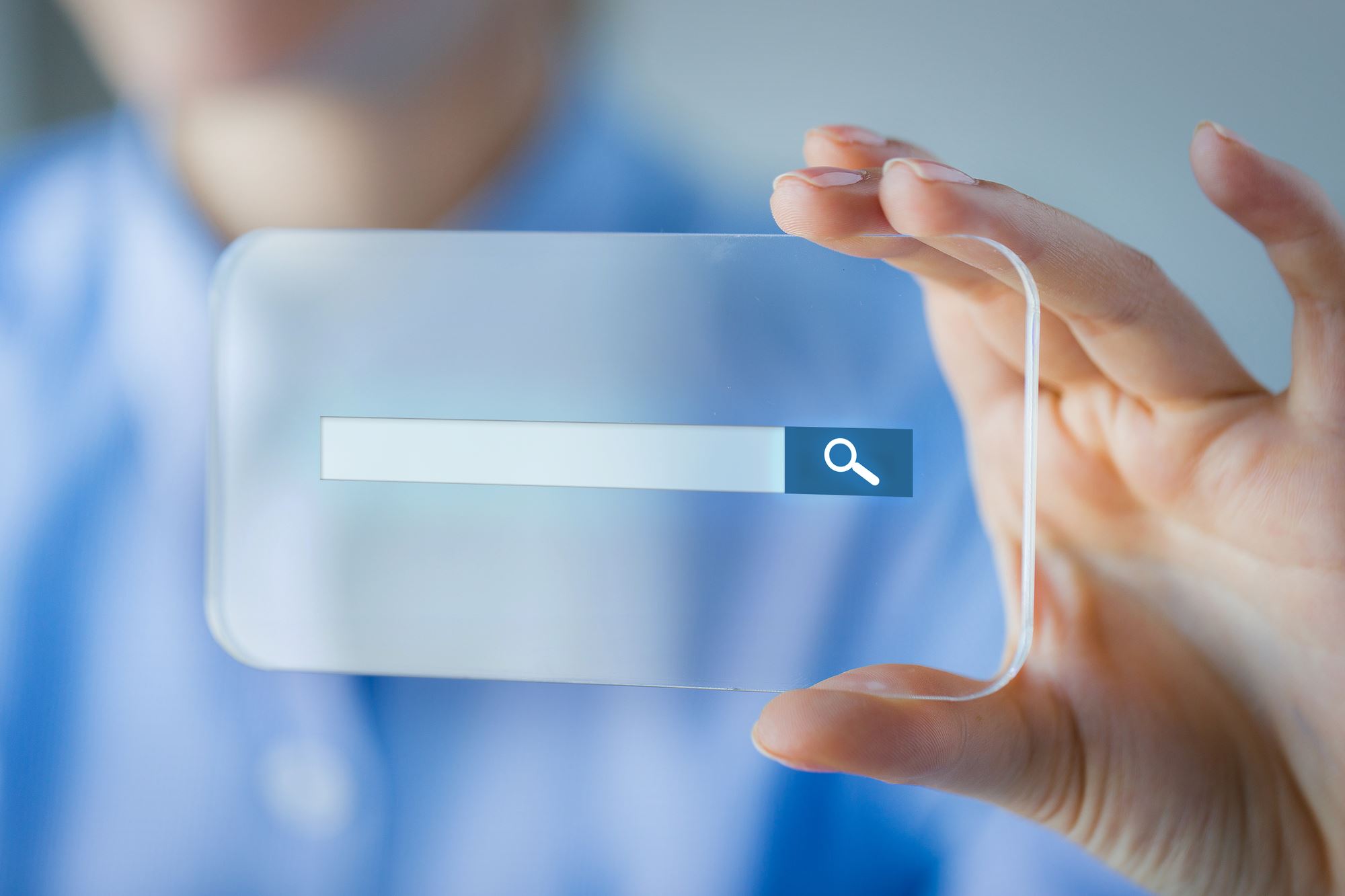 Optimise your Google My Business profile
A Google My Business page (GMB) helps Google understand your business better, gives users a better shopping experience and can help increase traffic to your website.
It is absolutely worth your time in maximising your listing to the best of its abilities, utilising as much as you can from it. Your GMB profile is essential in giving you the best chance in ranking higher in local search results.
In this guide, we'll highlight 5 things you should be doing to optimise your GMB profile for:
More click throughs ✅

More interactions ✅

Improved Local SEO performance ✅
Your Business Details
Before we get to some tips, first things first, ensure your business Name, Address, and Phone number details are correct (also known as NAP). 
It's straightforward enough, but double check that these details are correct. They're very easy to forget about, particularly if you've recently moved location.
The address on your website and your GMB profile must be the same, otherwise it can be a bit of a red flag to Google.
Having your opening hours listed and updated whenever they might change is good practice as well to help users who come across your listing.
Your Business Details Checklist
Check your main details are up to date and match your site
Sign in

to your GMB profile

Click on

Info

Check the address is correct and the same as on your website (formatted exactly the same)

Check the phone number is correct

Ensure your opening hours are listed and correct

Also ensure the 'services' section is filled in with what kind of business you are

Fill in any other extra data point you can within the

Info

section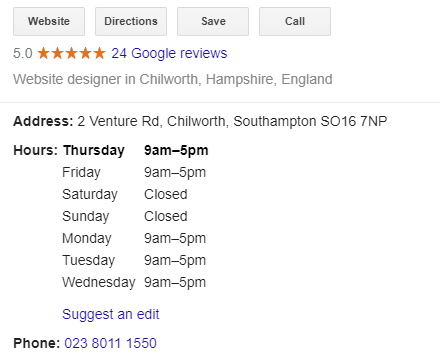 Photos & Videos
"Businesses with photos receive 42% more requests for driving directions to their location from users on Google, and 35% more clicks through to their website than businesses that don't have photos."
That's directly from Google themselves. Pretty convincing statistics to get some pictures and videos on your profile.
If you click the photos on your business listing and it takes you to a default Google image search, you absolutely need to add photos. Potential visitors are being taken away from your listing!
Much depends on the type of business you are of course when it comes to what kind of pictures you upload, but just ensure you have pictures on there that help illustrate what you're about to potential customers. Pictures of your office, building, staff, products are all normal and even suggested within the GMB photo dashboard itself.


Photos and Videos Checklist
Gather a library of photos concerning your business
Depending on the nature of your business, take pictures of: your office, products, the building from the outside, your staff, your logo
Sign in to your GMB and navigate to Photos
Click add photos / add videos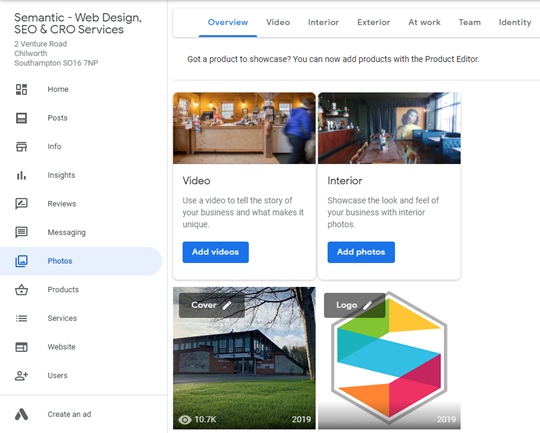 Utilise the posts feature
Posts are a fantastic way to promote specific products, blog posts, sign ups and more to potential visitors.
Being able to show users any special offers or discounts you have as they happen, before they have even clicked on to your website, can be very powerful. 
With an image attached to your post, it's more SERP (search engine results page) real estate to use to help catch the eye of a user.


Posts Feature Checklist
Write down a list of your promotions, blog posts, sign ups and similar that you can promote via Posts
Have an accompanying image ready for each Post you do
Sign in to your GMB profile
Navigate to Posts
Click on the Add Posts icon, or 'Add Offer', 'Add Update', 'Add Event'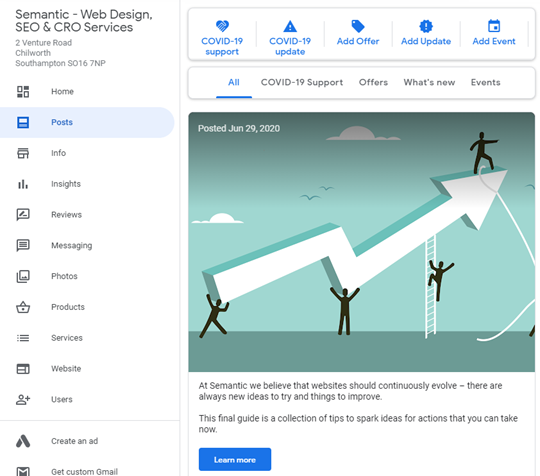 #3 User Reviews
Users can leave a review of your business on your profile very easily, and these reviews, which include an out-of-5-star rating, will appear for all to see.
So how can you make reviews work for you and your business?
Think of reviews as a free PR and advertising opportunity. Replying to good and bad reviews give you the chance to put your business in a good light to prospective customers.
Also consider that Google can also take business owner response in to consideration when it comes to local ranking, so there is plenty of reasons that make responding to reviews an absolute must.


Reviews Checklist
Contact happy customers and ask them to leave a review.
Sign in to Google My Business.
If you have multiple locations, open the location you want to manage.
In the left menu, click Home.
In the "Get more reviews" card, you can copy your short URL to share with customers.
Replying to Reviews
Ensure you're signed in
Click on 'View all reviews' within the Reviews section
Click on reply underneath each review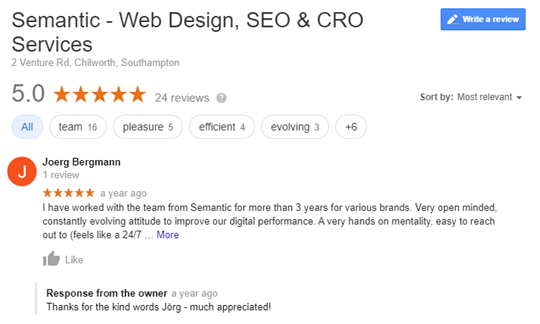 #4 Questions & Answers
Users can ask questions on your profile for all to see, and anyone can answer them too. Including you!
Just like with reviews, being seen as active and helpful to potential customers gives you an extra edge, and shows Google that you're an active business (which is a good thing in their eyes!), so make sure you answer all questions.


Questions & Answers Checklist
Answer questions
Ensure you're signed in to your GMB account
Navigate to the questions and answers section on your listing
Click Answer underneath the question

#5 Select your categories
You may have selected one category already, but did you know you can also select secondary categories that describe your business?
Selecting your main and secondary categories is important as it will be taken into consideration by Google when deciding what to show a user that's searching for the product or service that you provide.
Also, upon choosing a main category, you're then given specific features related to it. A restaurant business selecting their relevant category would be given the option to include a menu on their listing for people to see, for example. These added details can help consumers choose you over competitors.
Giving Google as much information about your business is key for your GMB profile to be found in local searches.


Categories Checklist
Add categories
Sign in to your GMB profile
Click on the category section directly underneath your business name
Select your primary category
Add any other relevant additional categories
Within the 'Services' section, select the services applicable to the categories you have chosen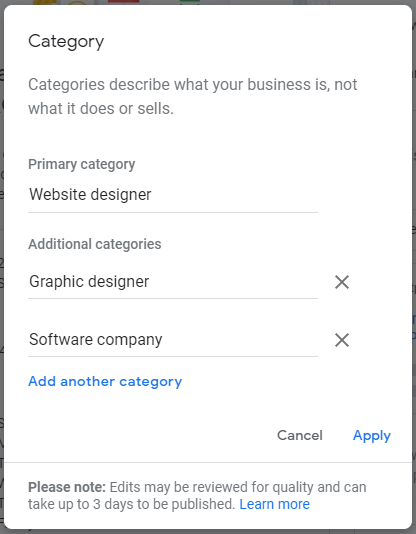 #6 Add products
Adding products is a great way to show exactly what you offer in an eye-catching way to users on the search engine results page.
By adding products, you can attach an image and describe it with a link straight to your website.
It's a great way to increase your search engine results page real estate and increase chances of a click through to your site for someone looking for that content.


Products Checklist
Add products
Sign in to your GMB profile
Click on the products section directly underneath your business name
Click add products
Choose an image to represent your product (or service!)
Write a description of the product
Insert a link to the product page on your site
Microsoft.CSharp.RuntimeBinder.RuntimeBinderException: Cannot perform runtime binding on a null reference
   at CallSite.Target(Closure , CallSite , Object , Int32 )
   at System.Dynamic.UpdateDelegates.UpdateAndExecute2[T0,T1,TRet](CallSite site, T0 arg0, T1 arg1)
   at ASP._Page_Views_Partials_grid_editors_Image_cshtml.Execute() in C:\home\site\wwwroot\Views\Partials\grid\editors\Image.cshtml:line 4
   at System.Web.WebPages.WebPageBase.ExecutePageHierarchy()
   at System.Web.Mvc.WebViewPage.ExecutePageHierarchy()
   at System.Web.WebPages.WebPageBase.ExecutePageHierarchy(WebPageContext pageContext, TextWriter writer, WebPageRenderingBase startPage)
   at Umbraco.Web.Mvc.ProfilingView.Render(ViewContext viewContext, TextWriter writer) in D:\a\1\s\src\Umbraco.Web\Mvc\ProfilingView.cs:line 25
   at System.Web.Mvc.Html.PartialExtensions.Partial(HtmlHelper htmlHelper, String partialViewName, Object model, ViewDataDictionary viewData)
   at ASP._Page_Views_Partials_grid_editors_Base_cshtml.Execute() in C:\home\site\wwwroot\Views\Partials\grid\editors\Base.cshtml:line 20
Conclusion
Hopefully you've learned some new things about your GMB listing and what you can do with it, or at least reminded of what you should be doing to make the most of it!
Remember, if you need any help relating to this, get in contact with us now.
Google My Business Overview Checklist
Ensure all your main business information is filled out

Add photos of your business, products, services (and a promotional video)

Utilise the Posts feature for posting offers and updates

Get reviews and reply to reviews (good and bad)

Answer all questions asked within the Q&A section

Select the right categories for your business for increased chance of visibility

Use the Products feature and add your products and services