iFLY - Building Momentum with iFLY's Online Sales
iFLY is the world's biggest indoor skydiving brand for leisure customers.  They are constantly working to maximise their online sales.  We have been working with the UK team for many years, but recently we have been able to grow their online capabilities to run split-tests and more ongoing Conversion Rate Optimisation work.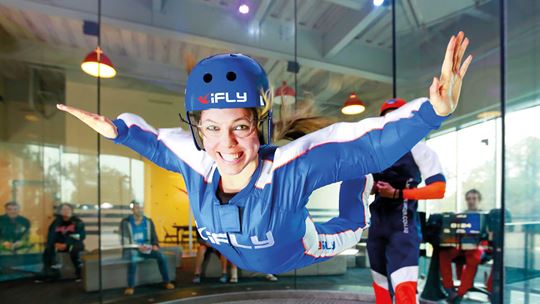 Key points
Started on our Momentum monthly  testing programme in 2019/20

12x ongoing split tests testing aspects on the website and booking journey

Deep API integration into their core inventory management system meant that we could test bigger ideas

We utilised best-practices to help customers and drive revenue

Plan includes Analytics audits, heatmaps, surveys and user testing
We always say 'Test, don't guess' so it's been great that the iFLY UK Team have embraced this with us.
Featured test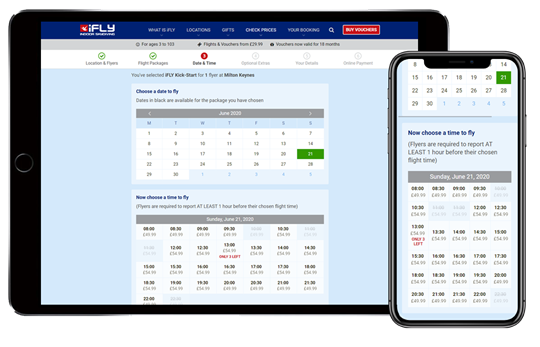 We've been working with iFLY UK to integrate their site into their core stock management and inventory systems for many years now.  An advantage of this is that we can use that work to run some pretty code-heavy tests.  The 'FOMO test'* as we call it, was a test that combined our technical, user experience and strategic capabilities.  The result was strategically placed 'limited availability messages, driven dynamically from live package availability.  The sort of technology big airlines use, but with a fraction of the work to implement it.
* Fear of Missing Out.

What we found
A revenue boost over the testing period for the new messaging

A rise in users clicked through to the next step of the journey, rather than abandoning

An increase in customers buying on the same day as their first website visit. 
You can read more about using FOMO on your website here on our blog.
Did you know… 
We can run split-tests large and small on any site, not just ones that we've built.  If you're looking to get more from your website then drop us a line.  We're always happy to talk and give advice about improving your website, our Momentum Package or any online challenge that you have.
"In a digital world that is constantly evolving, they have kept themselves at the cutting edge, offering sound advice and guidance at all times."
Nick Wake - iFLY