Transforming Ironbridge's online capabilities
We are thrilled to be working with the team at Ironbridge to transform their online capabilities in time for the 2017 season.
What we did
Ironbridge is a unique World Heritage Site so we wanted to make sure the museums and attractions were brought to life online.
New responsive website and shop




eCommerce store with retail, gift aid and ticket booking




Ticketing bookings and fulfillment on-the-day




CMS capabilities for the team to update the entire site




Dynamic use of video and feature images to drive upsells and cross-sells between the attractions




Engagement with the wider Ironbridge team to educate them in their use of online communications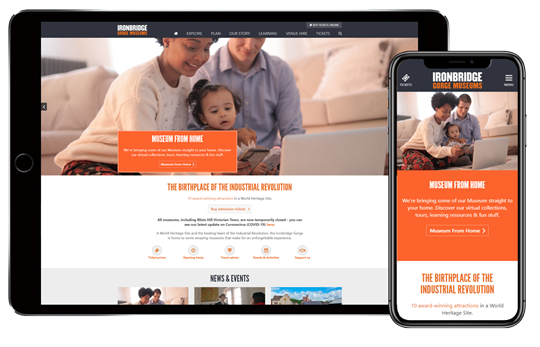 "From the outset we have found Semantic's approach to web development to be of an exceptionally high standard. We now have a fully content managed, mobile friendly web site. Semantic advised on all aspects of the project including content creation and usage of different media types throughout the site. We are extremely pleased with the results, on a monthly basis we are at least 20% up on visits to the website compared to the previous year.
Semantic were involved in the complete replacement of our website and helped integrate a ticket selling portal into the main framework. This has proved extremely successful and web ticket sales have increased dramatically as a result of the new streamlined process.
The ongoing support we have received has been impressive with short response times and high quality advice. With Semantic's technical support we have been able to move the site to an improved hosting platform which allows us to appropriately scale to deal with periods of increased web traffic. We have been able to align the site closer to an analytics platform which has led to improved customer insights.
Overall, Semantic went well above what was asked of them and as a result we have a website which is generating additional traffic, engaging visitors and far surpassing the results we expected."
- James Ferns from the Ironbridge IT team
We're thrilled to have been able to help transform Ironbridge's digital results.  Even some of the stakeholders were surprised by how much impact the new site project had, and this prompted them to invest more into digital channels and prioritise online communications.  Thanks to the Ironbridge team for all of their support throughout.
If you have an attraction website that needs fixing, optimising or reworking then drop us a line and we'll be happy to talk to you.