Bringing the Gruffalo to life at Chessington World of Adventures
When we heard that Chessington World of Adventures was saying goodbye to the legendary Professor Burp's Bubbleworks ride, we knew that they'd have to find something pretty special to beat it.  Well fortunately they did, in the shape of The Gruffalo River Ride Adventure.
What we did
As ever, we set to work bringing this exciting new adventure to life online.  From building initial hype in the run up to the main season, to communicating all their exciting launch plans, we were able to get customers excited about the new ride.
Site-wide theming and takeover




Site-wide branding, call-to-actions and tracking to drive engagement with the new attraction in the build up




Bespoke landing page design




Featuring a mobile-first template and data capture




Simple HTML5 games to build excitement with the kids




Mobile-friendly animations and page theming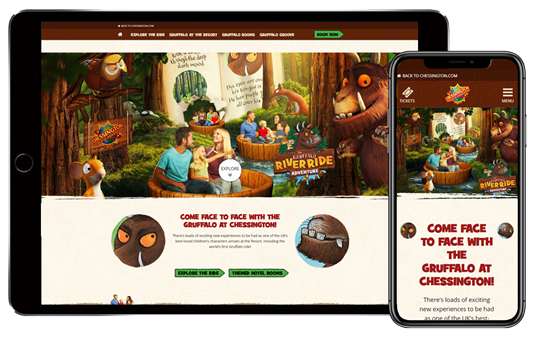 The results
"We're thrilled with how the team at Semantic have brought the Gruffalo River Ride Adventure to life online.  They've taken static assets and animated them to bring some magic to our online visitors, even on their small smartphone screens.  The website has also been instrumental in driving data capture and helping us communicate with our guests in the run up to the new season."
- Stephanie Young, Senior Digital Marketing Manager at Chessington World of Adventures
It was amazing to see the Gruffalo come to life on the Chessington site, even without many assets - as the ride wasn't even built.  Great work by everyone, and we are thankful for our friends at Chessington for their support throughout the project.
If you have a new attraction to bring to life online that needs bespoke designs, animations or other online wizardry then drop us a line - we're always happy to help.
The Gruffalo is © 1999, 2001 & TM Julia Donaldson & Axel Scheffler. Licensed by Magic Light Pictures Ltd.